I've been craving me some popcorn all weekend and the craving is still here. I must be lacking in sodium or something. We use the amazing
Whirley Pop
.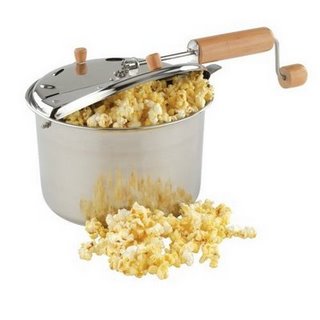 When Jake and I
were filling the bridal registry a while back, he saw that I had put the Whirley Pop on the list and started to laugh. I can't remember exactly what I said but I told him it was amazing and that he would never be able to go back to regular popcorn again and that we are keeping it on our list. Thankfully someone else appreciated the amazingness. We had half of our movie that we wanted to finish today....so of course I suggested we have popcorn. Jake asked if we wanted to have normal popcorn.
Normal popcorn?! Are ya kidding me? We don't eat normal popcorn.
Jake makes a fabulous batch of Whirley pop.
(I mostly tell him that so he makes it! Mostly.)
He really does make a good batch though.